Macedonian Workshop on Graph Theory and its Application
MACEDONIAN WORKSHOP ON GRAPH THEORY AND ITS APPLICATIONS
August 14–18, 2017
Ohrid, Macedonia
Organizer
Faculty of Electrical Engineering and Information Technologies,
Ss. Cyril and Methodius Univ. Skopje, Macedonia
The upcoming 2nd Macedonian Workshop on Graph Theory and Application will be held in Ohrid, Macedonia, from 14th till 18th August 2017. It aims to bring together researchers interested in graph theory for a small annual gathering in Ohrid during the month of August every summer.
The scopes of the workshop are topics from:
Graph theory
Mathematical chemistry
Mathematical sociology
Complex networks
The official language of the workshop is English.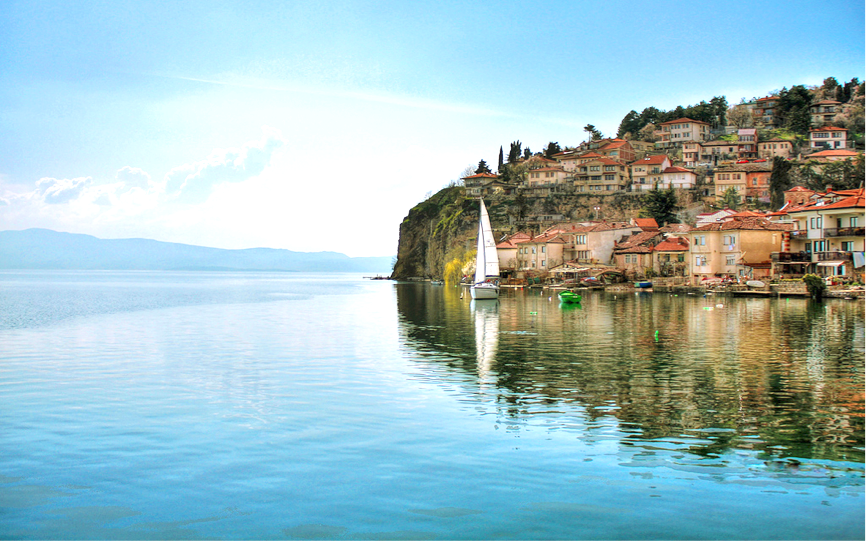 Registration
By e-mail to vesna.andova@gmail.com,
Until June 10 2017, no registration fees.
Accommodation
The workshop will be held in the
Congress Centre Ohrid, http://www.ukim.edu.mk/kc/index_eng.html
Additional information can be found at the following websites
Hotel Granit http://www.hotelgranit.com.mk/.
Hotel Metropol and Hotel Bellevue http://www.metropol-ohrid.com.mk/default.aspx
Workshop Venue
Ohrid is a well-known cultural, historical and tourist centre, famous for the beautiful Ohrid Lake - chartered by UNESCO as one of the oldest lakes in the world. The town of Ohrid is often referred to as the Jerusalem of South Europe due to its numerous churches - there once stood 365 churches and monasteries, one for each day of the year. Through the activity of St. Clement of Ohrid, the first pan-Slavonic University in Europe was situated there during the 11th century. Even today, the old town area is rich in picturesque houses and monuments. It is about 700 m above sea level. The climate is continental with modest temperatures during the whole year.
Every year from July 12 till August 20, the Ohrid Summer festival, an important cultural event, is held at several venues in the old town
http://www.ohridskoleto.com.mk/index.php?lang=en.
Arriving in Ohrid
The town is located approximately 160km southwest of Skopje.
By plane: The closest airports are St. Paul the Apostle Airport, Ohrid, located only 10km from the town centre, and Alexander the Great Airport, Skopje: http://airports.com.mk/default.aspx?ItemID=345.

From Skopje airport you can continue towards the University Congress Center in Ohrid by bus, rent-a-car or taxi.
All relevant information about a transfer from Skopje airport to several places in Skopje (including the International/inter-city bus station) by shuttle bus can be found here:

There is a regular bus connection between Skopje and Ohrid every day. For departures from Skopje you can check here:

http://www.balkanviator.com/en/bus-timetables/skopje-mkd/ohrid-mkd/

Prices for a taxi from Skopje airport to Skopje can be found here.
RENT-A-CAR (from the airport)- Contacts can be found here.
TAXI-Prices for a taxi (from Skopje airport to Ohrid) can be found here.
By bus: The bus connections between Skopje and Ohrid are available on www.sas.com.mk. University Congress Center is 6 km from Ohrid's bus station and by taxi it should cost around 300 denars (5 Euros).
By train: There is no train connection between Skopje and Ohrid. You can reach Skopje by train and continue to Ohrid by bus, taxi or rent-a-car. Skopje main train station is located next to the International/Inter city bus station. For departures from Skopje you can check here.
By car: University Congress Center is 6 km from the center of Ohrid, few hundred meters before Hotel Metropol, on the right hand side of the road. See the maps below. Its address is:
Congress Centre –Ohrid, s. Konjsko, (near Lagadin), 6000 Ohrid
Visas
For the official information about visa regime click here.
Organizing and Programme Committee
Vesna Andova, Ss. Cyril and Methodius University, Skopje, Macedonia
Mirko Petruševski, Ss. Cyril and Methodius University, Skopje, Macedonia
Riste Škrekovski, University of Ljubljana, Ljubljana,
Faculty of Information Studies, Novo mesto,
University of Primorska, Koper, Slovenia.
Address of the Organizing Committee
Faculty of Electrical Engineering and Information Technologies,
Ss. Cyril and Methodius University,
Ruger Boskovik 18,
1000 Skopje, Macedonia